LOGIC PUZZLE MUSEUM CATALOG
Puzzles & gizzzmos to order & buy from the Logic Puzzle Museum
Burlington, Wisconsin USA (262) 763-3946
+ visit the Spinning Top & Yo-Yo Museum site's catalog page & combine items for one order if you like.
EVERYTHING is great for grandpa, young adults, engineers, quilters, kids, puzzlers, organizers, desk tops,
accountants, brother-in-laws, your older sister, mothers, teens, classrooms, senior centers, teachers,
construction workers, seniors, & CEO's....! Note: None of these items on this page are for young children.
Most items are for ages 8 through adult, while some also great for ages 6 & 7, & all adults

________________________________________________
These are all great puzzles & gizzmos that
we use at the museum & highly recommend.
..................................................................................................................................
Ordering details &
ORDER FORM at END OF THIS PAGE.
A Tiny Free Gift for you! with minimum order from our puzzle catalog
HARK: sometimes email orders don't make it through cyberspace, so if you don't hear back from us in a day,
PLEASE call us, (leave message on machine with your name & number & that you emailed an order). Thanks.
Or feel free to call right away informing us that you have sent an order! 262 763-3946
>> Minimum order of $35 + shipping/handling/fees per address
Sorry: we no longer ship international packages.

Item 800. Gift Certificate: Visit the Logic Puzzle Museum: group of 4 for $38.00(save $2)
or 8 people for $75(save $5). Discounts for groups of 25+
90 minute hands-on session, make two puzzles to keep, enjoy exhibit. Details & times on this website.
Group with certificate: each person receives a little free gift also when they attend!
Item 702 Invisible Maze Puzzle,
Where's The Marble? $10
The lost marble is somewhere in the box with a hidden maze!
Try to work it around and roll it out! Wood box with internal maze & marble,
approximately 4" x 2 7/8" x 7/8"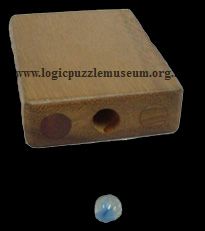 ---
Item 703. Do they really fit??? 4 Piece Puzzle $16
A brilliant design that combines elegance with apparent simplicity, but watch out, it's diabolical!
Only 4 pieces to fit into the rectangular tray? Our photo keeps some of the actual shapes a
secret as well. The triangle-shape opening stores one of the four pieces to help keep the solution
a secret when you receive the puzzle. Hardwood, approx 5.5" x 3.3" x 6" Solution included,
but we suggest you don't look at that. Even fitting any 3 pieces into the rectangular opening proves
to be a puzzle!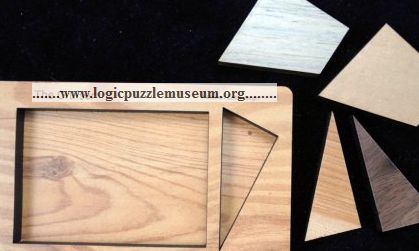 ---
704. Checkered! $4.95
Form a 4 x 4" checkerboard using all of these pieces! Not as easy as it looks!
3 solutions enclosed inside box, but it's more fun if you don't look at those.
Box cover says "Normal Time 6 Hours"
Comes in a nice, sturdy 5.25" square box. Puzzle & box: cardboard.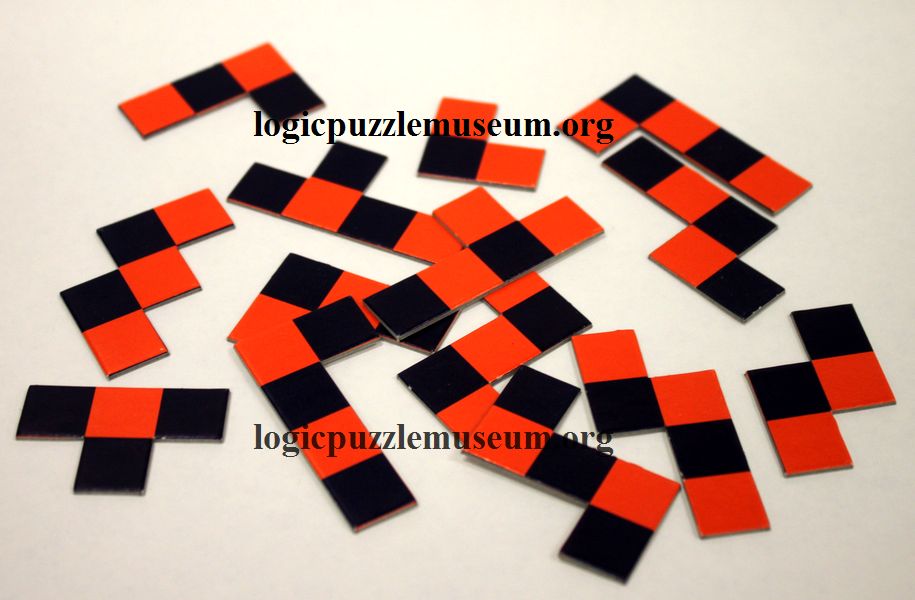 ---
705. 24 Puzzles: Lucky Challenge! $13.95
Vintage 1973 puzzle, new in box with 24 different puzzles to solve with
selected multiple pieces, 2 boards to work on, so two may play the puzzle
game challenge at same time! Score cards, colored pencils to record your
solutions, instruction sheet. This is a very challenging puzzle,
and a vintage collectible, too.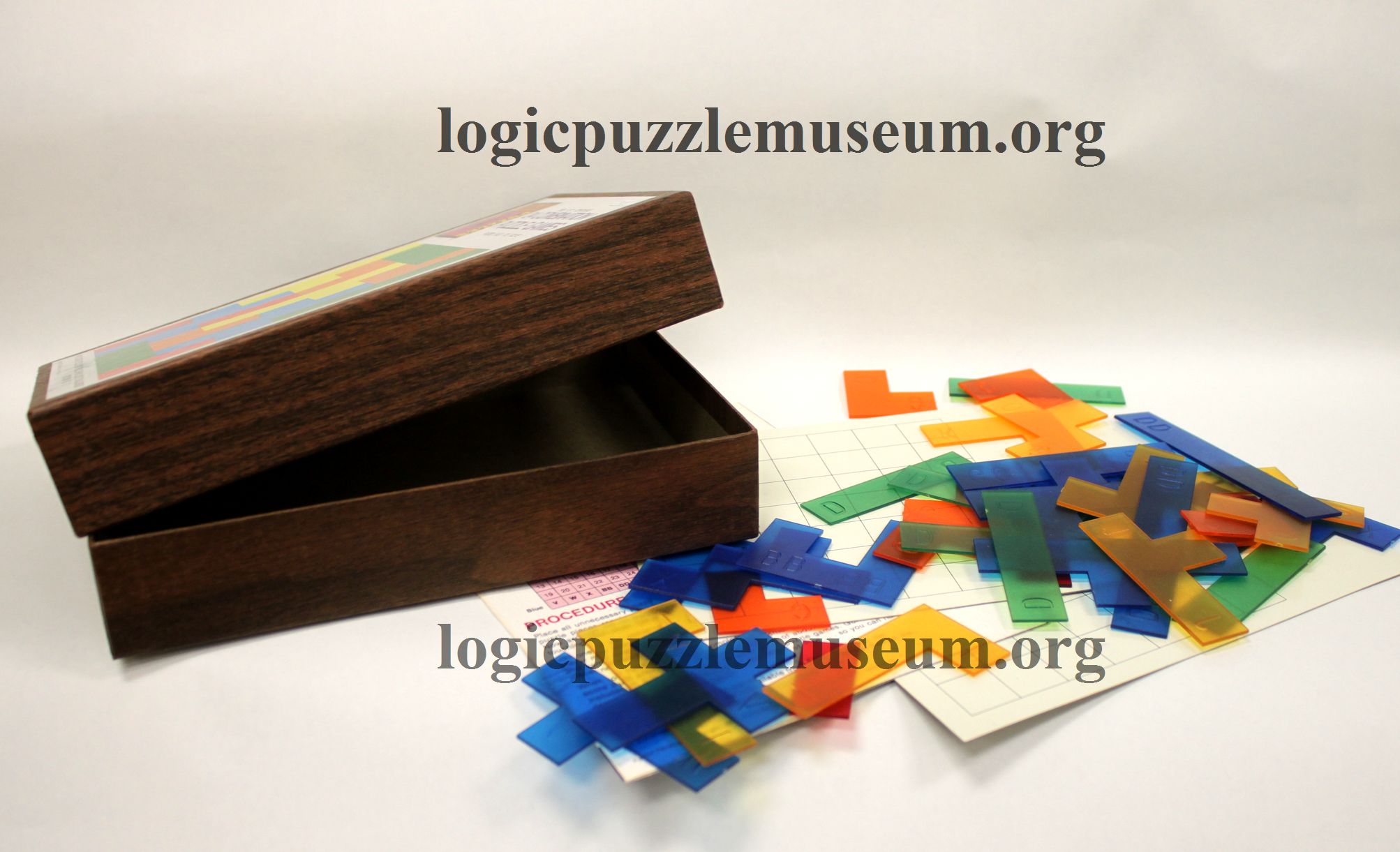 ---
visit the Spinning Top & Yo-Yo Museum catalog pages and combine with your order from this page
---
706. Twist & Bend Puzzle $4 each
Pick the color of your choice: red, blue, green. Sheet with challenge
shapes to form & solve included:
animals, images, shapes, designs. Design your own, too.
Plastic. When folded up: about 3 x 2 x 3/4"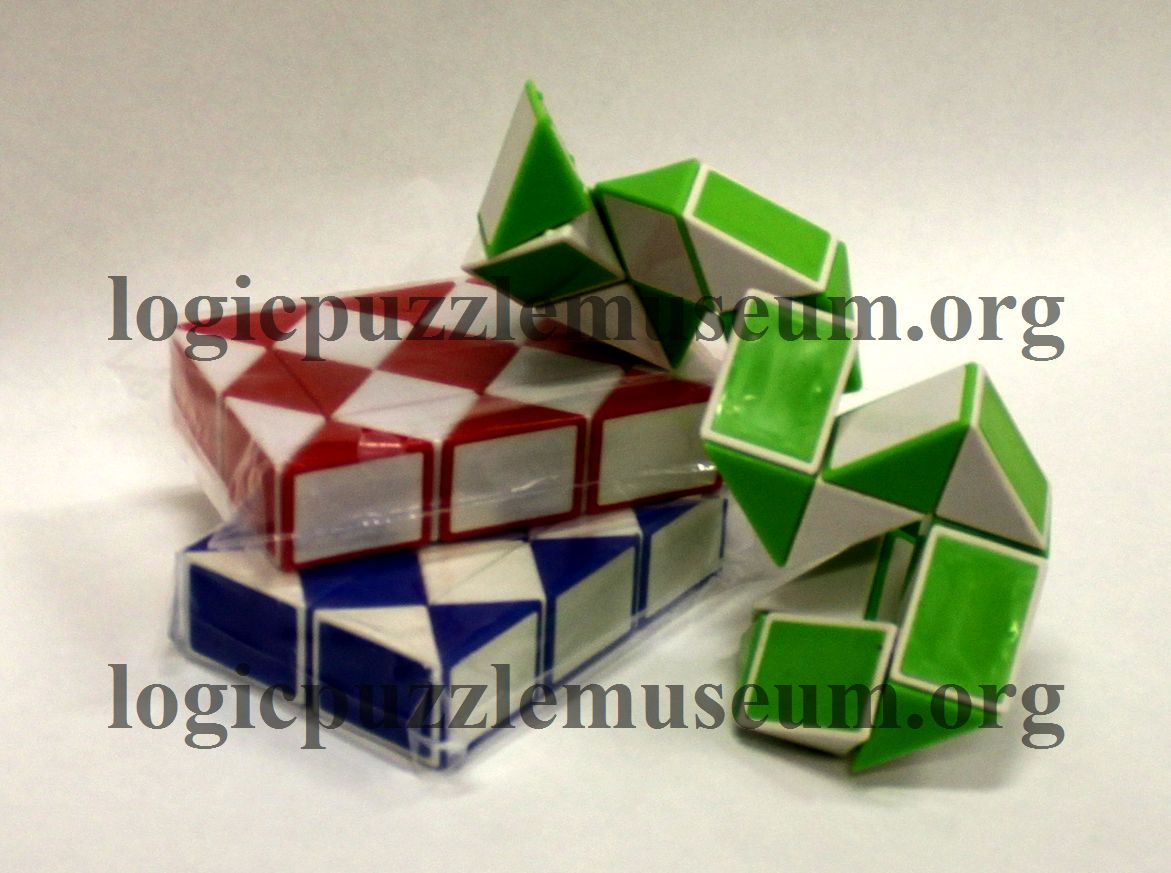 ---
707. Ladder Illusion: Tricks & Puzzles $7
Hold vertical and fold block down, it creates a kinetic illusion: appearing
to make the wood ladder grow & change! We also include a sheet with ideas
for more than 30 different puzzles & tricks & shape to try to form
with this great ladder! Shown sideways: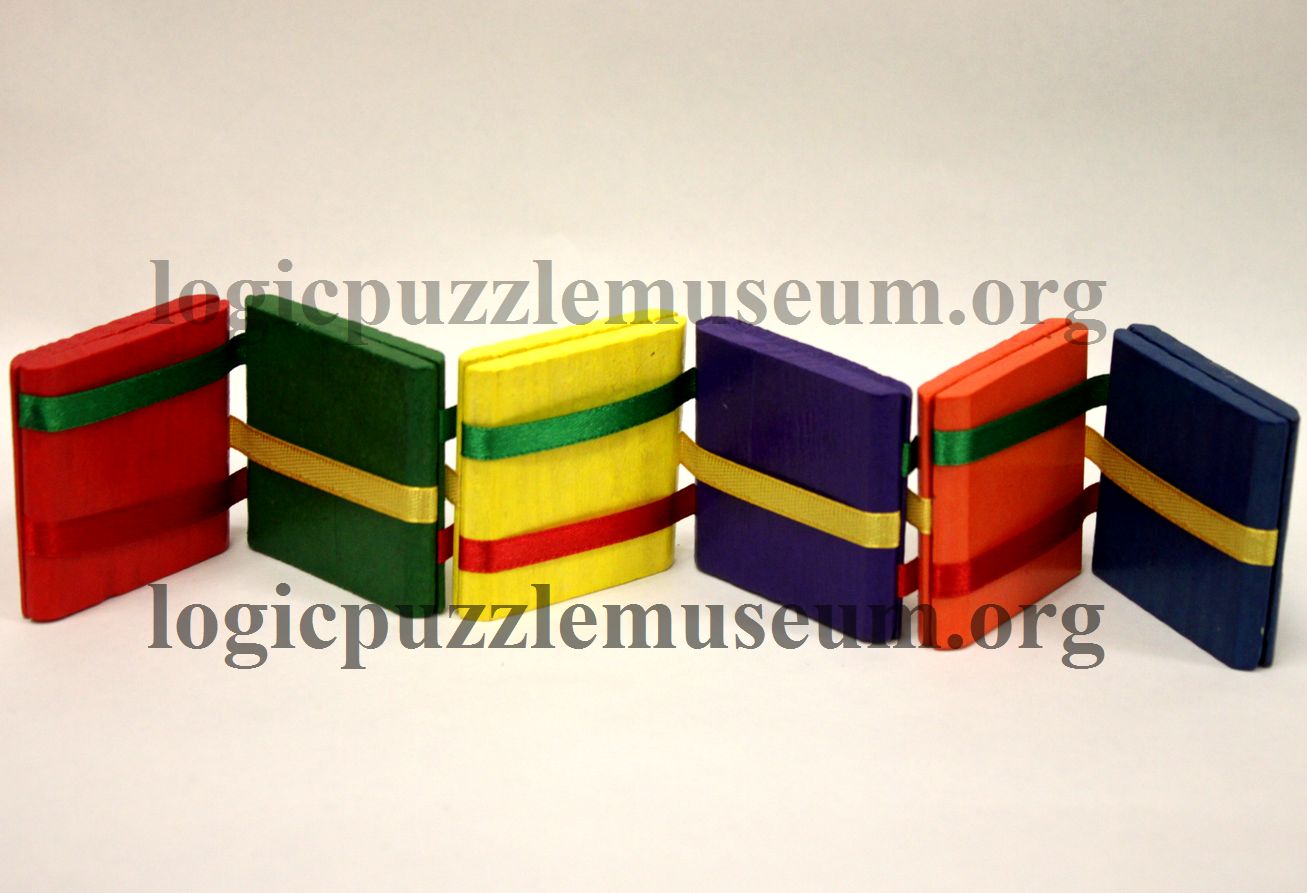 708. WHICH ONE ???
table top optical illusion trick...$15
Which one is bigger? 3 wood piece set that will fool you! Fool adults & kids
with this table top optical illusion trick. Re-arrange the order of them, and
check again! Maybe the biggest one is now the smallest? Suggestions
on using this included with a set! Carry them in your pocket or purse
for fun at picnic, parties, get-togethers, senior centers,
and holiday gatherings! A lifetime of fun! Made in USA.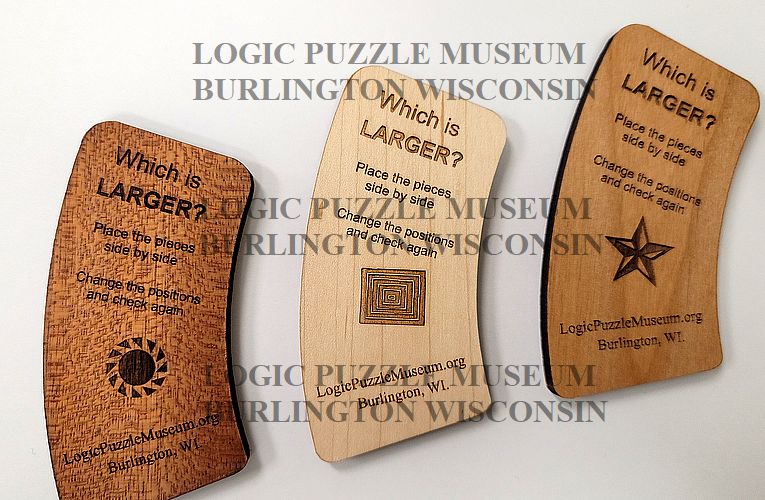 709. Set of 4 different shape puzzles, set of 4: $15
Try to fit the pieces back into the trays! Or use them outside the tray
for creating other puzzles. Brainteasers!
approximately 4"x 4" wood puzzles, each with its own tray.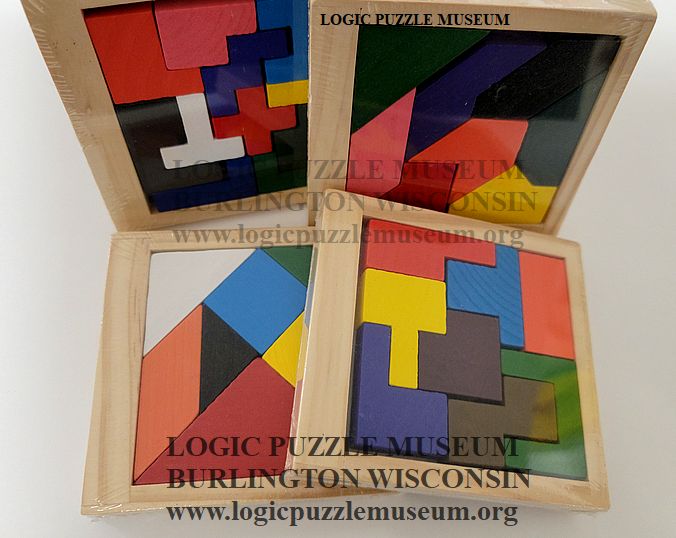 710. One box with 2 Tangram Sets, $12
of 2 different colors, 40+ puzzle cards, and tray to display a puzzle card
that you or you and a friend are working on. Challenge yourself,
or 2 people at once! Look simple? but they will puzzle, confound,
and please you for sure, as they have for many over thousands of years.
When desperate, the answers are on the back of the cards. Colors may vary.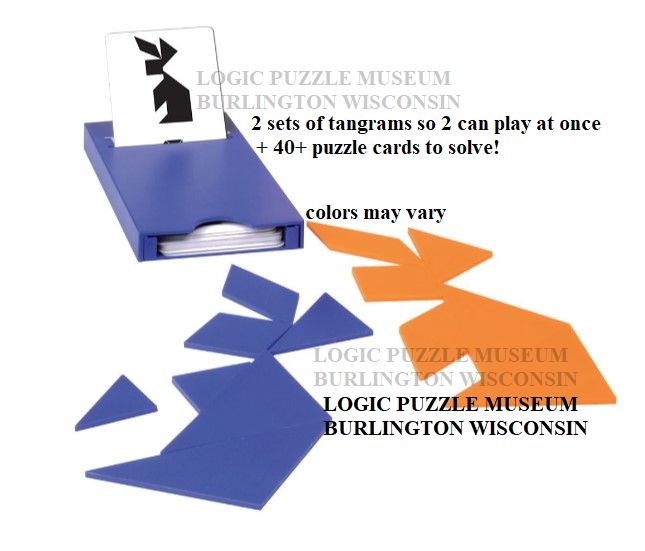 710 b. TANGRAMS 330 Puzzles - BOOK new copy! $9
Back cover can be cut into puzzle pieces if you want. Puzzles to solve and answers when you need them!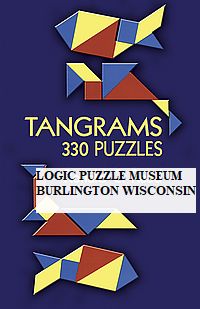 What is a tangram? It is more easily seen and understood than defined in words. But to put it briefly, it is a geometric dissection puzzle in which seven standard pieces (five triangles, one square, one rhomboid) are used to make images of various objects. The origin of the name is not known, but the game itself is of Chinese origin, and for centuries it has been one of the most popular diversions in the Orient.
The tangram is not entirely new to America, since Yankee sea captains brought books of tangram puzzles back from Canton and Shanghai. Edgar Allan Poe was a devotee, while on the other side of the world Napoleon is said to have whiled away his time with them. Around the turn of the twentieth century, the two great modern puzzlers, H. E. Dudeney and Sam Loyd, greatly enlarged the traditional field of tangram situations.
This collection gathers together nearly 330 tangrams, the best creations of both Chinese and Occidental puzzle devisers. Included are some of the most striking Oriental puzzles, carefully selected from rare nineteenth-century books and some of the most inventive and imaginative inventions of Loyd and Dudeney. Although individual tangrams have always been favorite members of most collections of mathematical amusements, to our knowledge this is the first book devoted entirely to this popular form in many decades.
Some of the tangrams in this collection are relatively easy and can be solved without too much brain-straining. Others are difficult, and many demand quite a bit of mental sweat before they are resolved. All, however, are delightful concoctions in recreational form-perception and will provide many hours of pleasure.



710 c. Sam Loyd's book of tangrams – NEW copy $11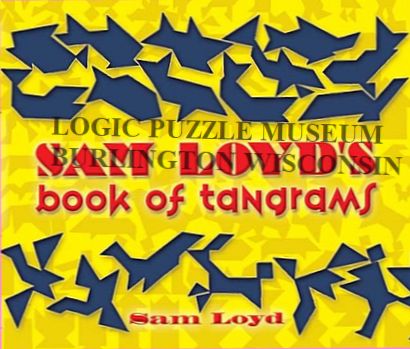 The original "Chinese puzzle," the challenge of the tangram lies in your ability to arrange seven geometrical pieces—a square, a rhomboid, and five triangles—into a variety of different shapes. Collected by America's great puzzle expert, here are 700 endlessly absorbing tangrams offering hours of mind-expanding amusement.
Sam Loyd's Book of Tangrams is also a tribute to this tricky but intriguing puzzle. In a famous and delightful spoof of the tangram's history, Loyd includes running commentary on the popular puzzle's origins in ancient China, its religious significance, and its relation to the Pythagorean theorem. But don't let the amusing dialogue fool you! The puzzles are genuine challenges. If you've ever tried your hand at tangrams before, you're probably already addicted to their limitless possibilities. If you haven't, this classic puzzle potpourri will have you hooked in no time! Solutions are included.
711. BLUE CUBE with 6 puzzles to solve! $11
one puzzle on each side of the blue cube, each one different!
Looks easy? Maybe not!
Unique puzzle with 6 to solve. Red pieces can be stored inside blue cube.
About 3.5" cube.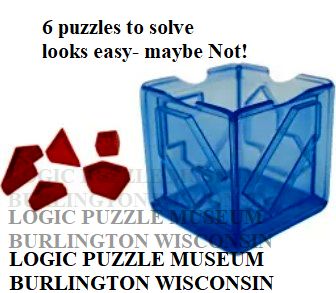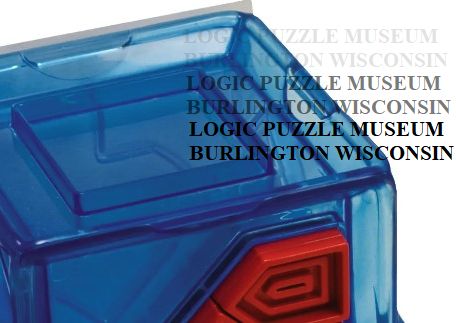 712. Striking Black & White Square
Metal marble balance/dexterity puzzles! Set of 6/$10
Try to move the marble(s) to its place(s)!? Fun to have sitting out on
your coffee table! Portable, too... pocket size fun. Assorted designs,
6 different ones per set (12 different designs.) A set of 12 puzzles for $18,
all different if available, or as close as possible to all designs duplicating some.
Almost 1.5" x 1.5" x.5"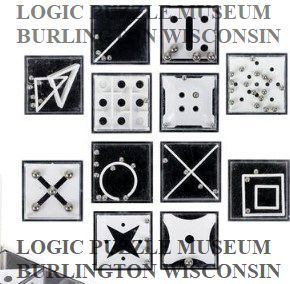 713. Bamboo take-apart burr puzzles! $10 each
Elegant, handsome, beautiful puzzles. Great adult or teen gift!
A hands-on puzzle for the living room!
3 different designs A, B, C. About 3" x 3" x 3"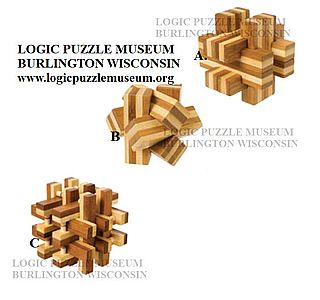 Item 801. Magnetic Balls Puzzle $10
try to get all of the balls to stay on the nine little holes. Cardboard triangle
is about 3.5" on a side. Balls are plastic with magnets inside. Hmmmm.
Rare puzzle.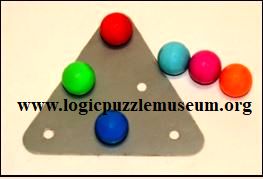 ---
Item 803-A. Sliding Number Puzzle $16
a classic numerical hand held puzzle, originally introduced in 1880.
Polished metal and decorative enamel for smooth sliding.
To play, scramble the 15 numbered tiles in the tray, then try to slide
them into correct numerical order. Pouch & sheet with other puzzle
challenges. A favorite for generations!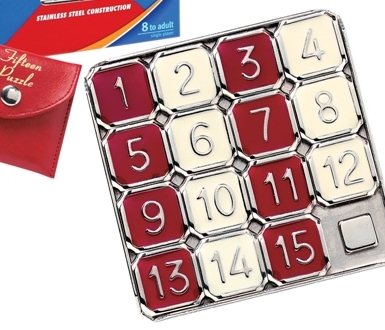 Minimum order of $35 + shipping/handling
---
Item 806. B & W Edge Matching Puzzle $10
A black and white pattern edge matching puzzle. 64 Black and White
pattern tiles to make a large 8 x 8 square and create your own patterns.
This puzzle has lots of dead ends and lots more possibilities; it plays a little
like a jigsaw puzzle where you search for the matching pieces.
All ages will enjoy playing it from young children to parents and seniors.
Many can play at once. Box approx. 4"x 4.5" x 2.25"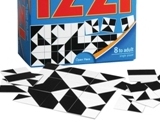 > Minimum order of $35 + shipping/handling
---
811. Chocolate Fix more available soon
Life-like candy play pieces in this delightful game of pure deductive reasoning. Similar to
Sudoku, players examine all the clues on a challenge card before making a move. Once
they discover where to put a piece, they combine this knowledge with additional clues
to find out more information. Feel your confidence build as you narrow down the
possibilities to fill each candy assortment. Challenges ranging from beginner to expert
will feed your chocolate cravings for hours. Box approx. 8.75" x 2.5" x 8.75".
40 different puzzles to solve!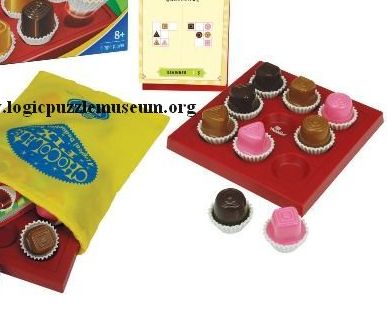 Minimum order of $35 + shipping/handling

---
812. 60 Puzzles: Cube Blocks $17.00
60 different puzzles to solve with this set of just 7 pieces!
Creative 3-D thinking & challenge! Puzzle invented in 1936!
Combine pieces to match an image on 1 of the 60 challenge cards.
When desperate, back of cards have answers.
Box size approx.5.25" x 1.75" x 8"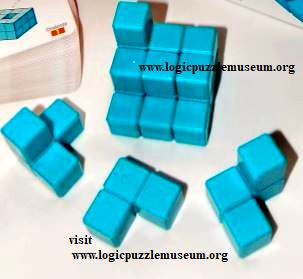 ---
813. Uphill $4.00 for one
One Piece Puzzle! A classic puzzle, and some say a trick! Object is to get the two steel balls onto
the two outer perches of the puzzle base. This seems impossible, and is very rewarding to solve
it yourself! Photo shows one out of package and one in package.
You receive one puzzle for $4.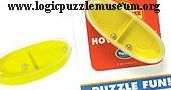 Fun to take places & challenge friends, students, teachers
and co-workers. (even to parties!)

---
816. Mini MasterMind Game $10
A classic code breaking game for 2 players using colored pegs. Instruction sheet in
10 languages, including English. Travel size, big time thinking fun. Box approx. 4 7/8 x 2 1/8 x .5"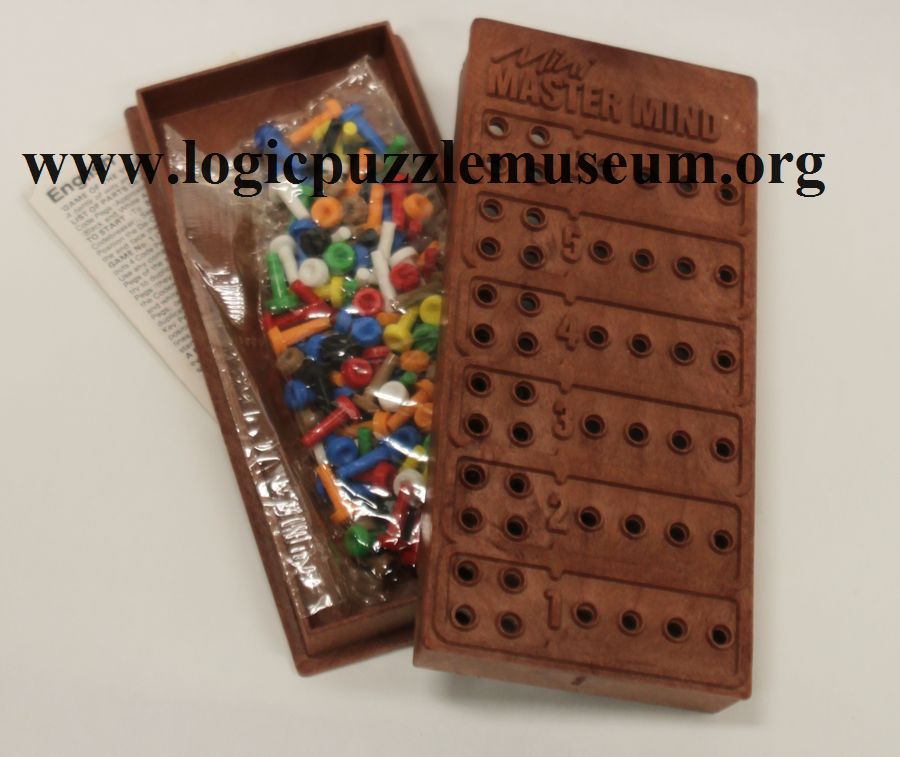 ---
819. Pyramid Transfer Puzzle with 9 disks $25
Wood puzzle. By moving only 1 piece at a time and never placing a larger piece on a smaller piece,
transfer the entire stack onto one of the other posts! Quite fun and challenging!
Keep in the living room for all of your guests to try, too! Base is almost 9" wide.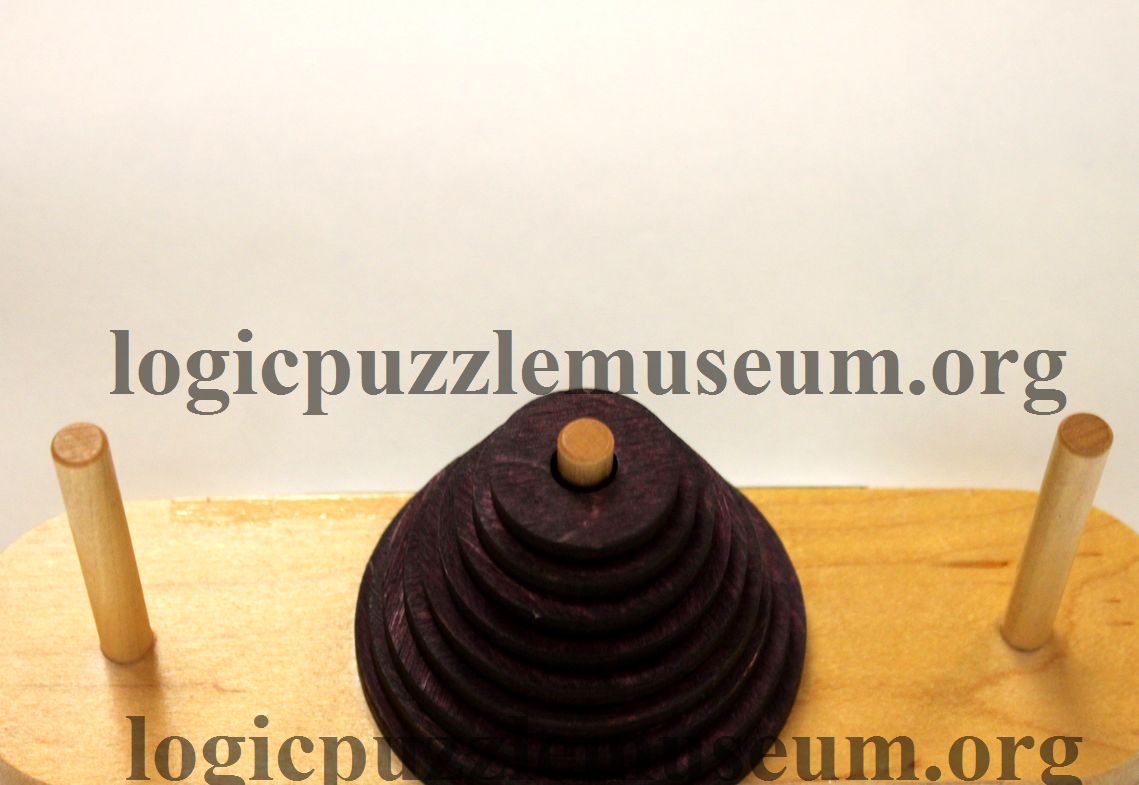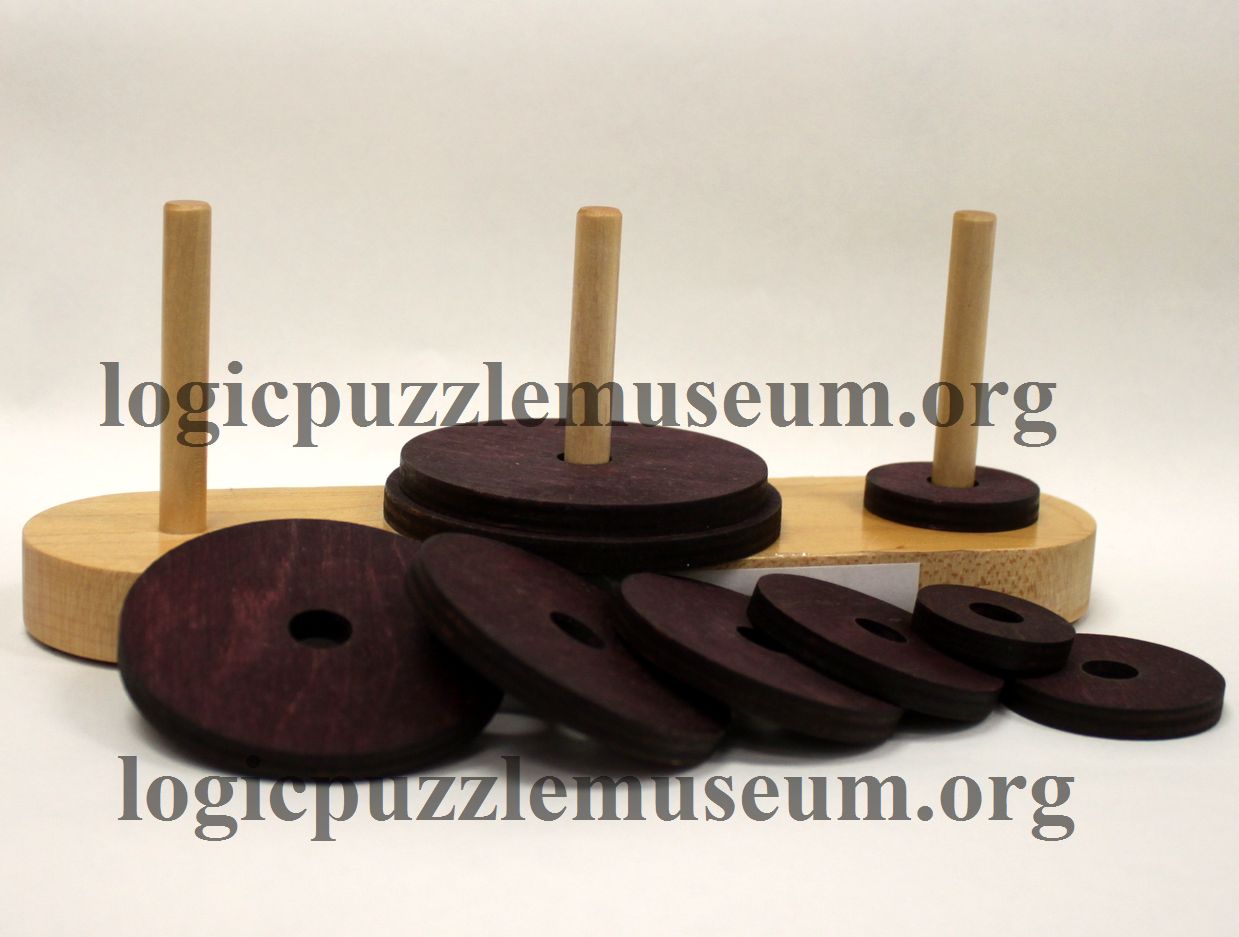 ---
Minimum order of $35 + shipping/handling
---
821. Balance Device! $4. Year round fun + APRIL FOOL FUN!
A classic gravity defying device. It can support a heavy leather belt off the tip of a finger
(Belt and hand not included as shown, you provide your own...) Wood. Approx. 3.9" wide.
Great April Fool fun, magic show fun, impress grandpa and your friends!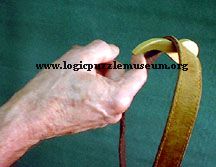 ---
852. Folding Cube Puzzle $5
Fold back into a cube if you can. Wood, approx. 2" x 2" x2 "


Very challenging!
853. Top Guy Puzzle: 7 Spinning Tops $12.
½" natural wood figure made of 7 separate pieces which are spinning tops. Two toys in one!
Picture here shows it assembled/solved (don't tell..), then the 7 separate tops when taken apart
Item is one set of 7 tops assembled. (those in front of this picture are just to show you how the
tops look when Top Guy is taken apart). More tops for sale at Spinning Top & Yo-Yo Museum catalog.

---
854. Assorted Puzzle Balls set of 4 for $12
2½" to 3" plastic puzzle ball & star shapes with fit together pieces.
Solutions included. Assorted puzzles in set of 4.


------Minimum order of $35 + shipping/handling
---
856. Handsome Star Puzzle out of stock
Try to remove the star from the oval! The star floats loose, but doesn't fall out? Putting it back
is just as challenging as getting it out! This is a hit at every gathering. Handsome cast metal.
Approx. 3" long. Great on the living room end table, next to the computer,
or fun to take with to challenge everyone you visit!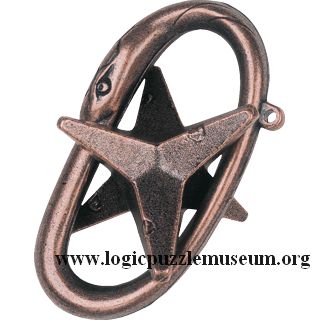 ---
859. cool...Cheese-Slice Wood Puzzle $15
Cheese Slice is both a puzzle and a brainteaser. Beware... as simple as it appears,
completing this puzzle without the solution key is a phenomenal feat of perseverance
and brainpower! With two levels of difficulty, it will provide hours of entertainment
for the whole family. Comes in bag with solution. Finished slice approx. 6" x 6"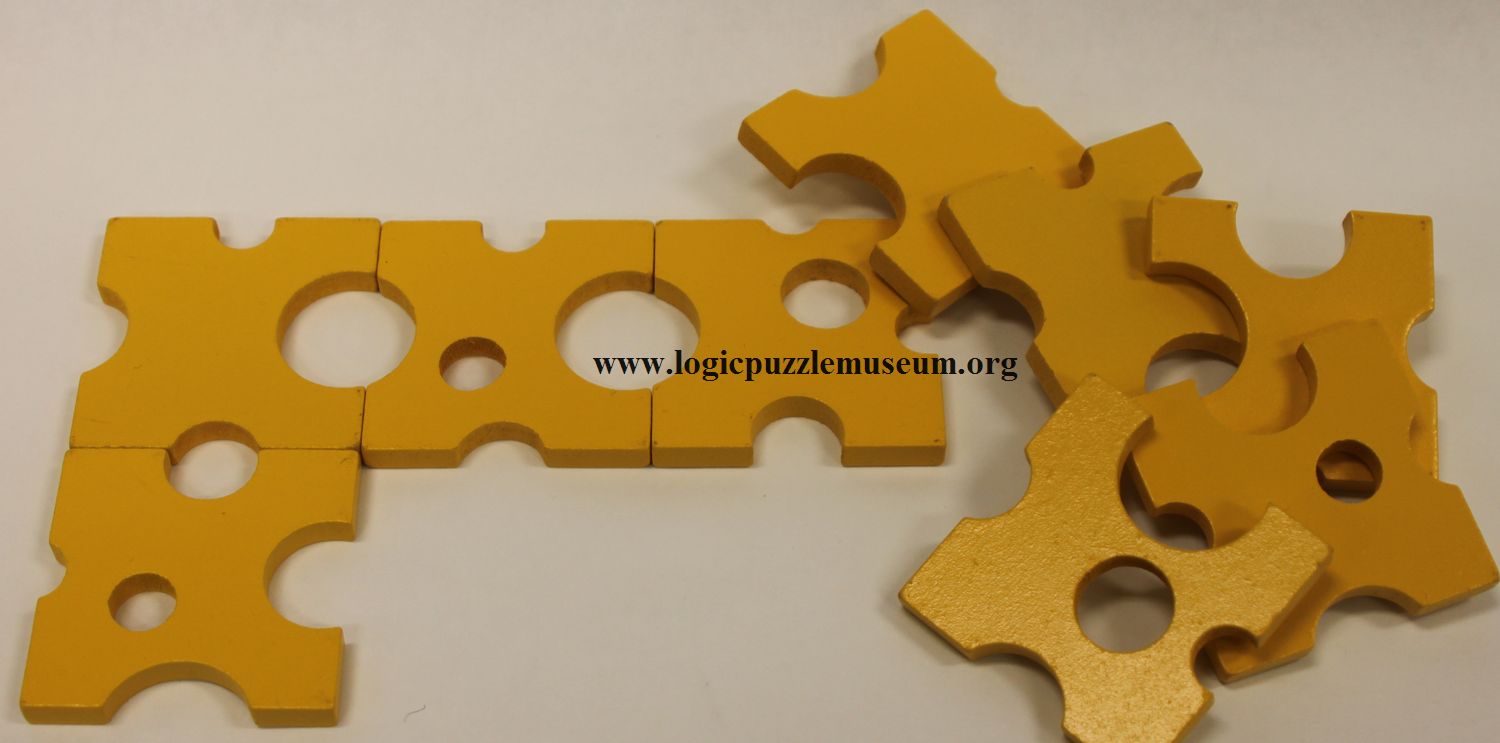 ---
862. Set of 2 Famous Sam Loyd Puzzles $25
Major brainteasers invented in late 1800's in America! Have mechanical die cut feature where circle turns.
All are on quality heavy stock. Printed in Australia. Limited edition of just 1000 each produced.
Approximately 5.5" x 7" and 6 5/8" x 6 5/8". We only have a few to offer.
---
863. Set of 3 Famous Sam Loyd Puzzles $12
Beautiful set to use or display or frame. These are classic brainteasers that will fool most everyone.
Invented in the late 1800's in America. All are on quality heavy stock. Printed in Australia.
Two larger cards are Limited edition of just 1000 each produced.
Approximately 4.5" x 3.5", 7.5" x 5.5" and 7.5" x 5.5" We only have a few to offer.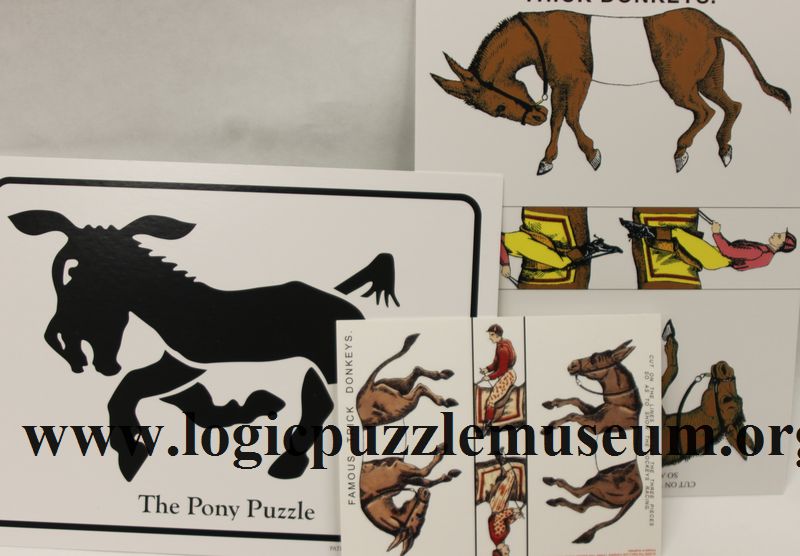 ---
864. Set of 6 Famous Sam Loyd Puzzles $40
Beautiful set to use or display or frame. Three have mechanical die cut feature where circle turns.
All are on quality heavy stock. Printed in Australia. Limited edition of just 1000 each produced.
Approximately 5.5" x 7" and 6 5/8" x 6 5/8", 4" x 5 1/16". Three with animals are classic brainteasers:
heavy card stock
approx. 4.5 x 3.5, 7.5 x 5.5, and 7.5 x 5.5.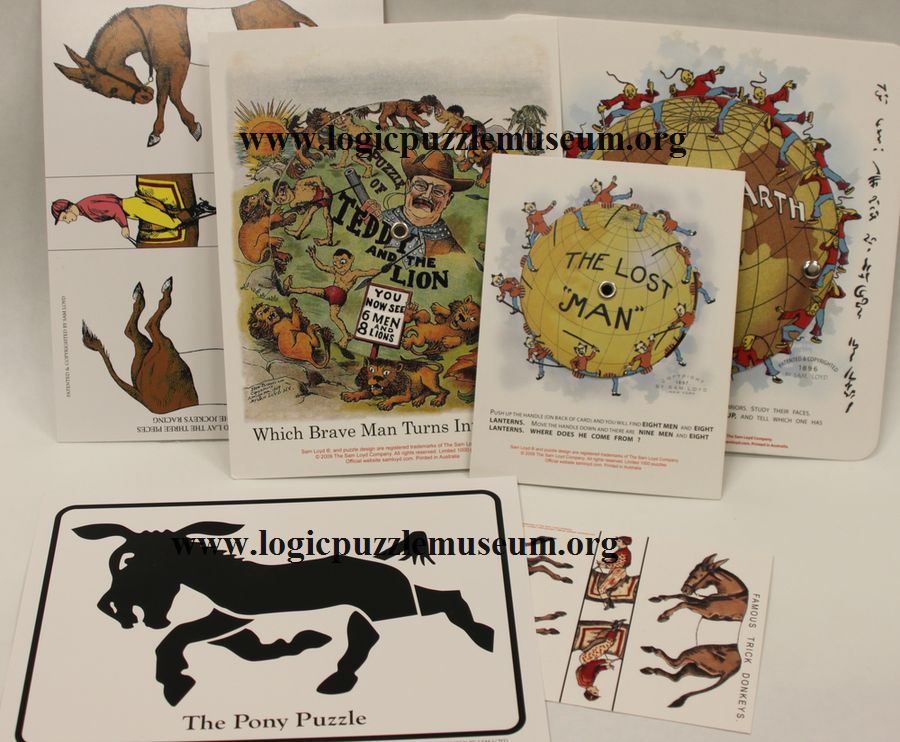 Only have a few sets left..










---
865. Set of 7 Famous Sam Loyd Puzzles $12
Popular advertising in the 1800's was in the form of trade cards and promoted everything from dry goods
to clothing stores and soda drinks. Sam Loyd's puzzles were used by many companies.
These 7 puzzles are quality reproductions on quality stock of those treasured puzzles.
Cards are Approx 2.3 inches x 3.5 inches.We only have a few to offer.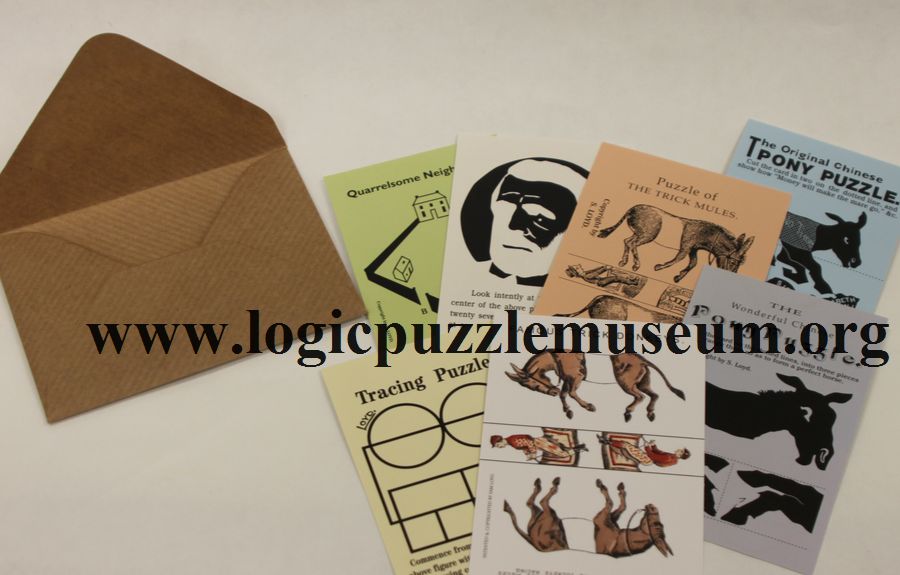 Minimum order of $35 + shipping/handling

More items are being added ...check back for more,
or give us a call to find out what else is in our gift shop!


Minimum of $35+ shipping/handling

~ ORDERING DETAILS~
Logic Puzzle Museum and the Spinning Top & Yo-Yo Museum
533 Milwaukee Av, Burlington, WI 53105 (262) 763-3946
Please submit by email the form at the end of this page***
and we will email or call you to confirm
availability and the total cost with shipping and handling and insurance.
Then you can make payment. Once payment is complete, we ship your package.
-- You may pay by PAYPAL, Small service fees applied to all electronic payments. We will email you the address to make the PayPal payment to.
-- Sorry, we cannot accept personal checks.
--All sales are final, we carefully check over each item before shipping to you.
(As we use these things in our teaching programs and museums we know how great these items are,
but we still guarantee everything is breakable).
--We always pack in sturdy cartons, with plenty of inside protection. Call if you are looking for other types of puzzles as well as tops, yo-yos, gyroscopes, etc (visit www.topmuseum.org!)
--will select best, lowest price for shipping for you, based on your date needed. Packing/handling is $5 minimum per carton, higher for international shipping.
Insurance is optional unless order is over $50 or fragile items. Plus shippers charge & electronic fee.
--Hint: ordering 1 or 2 items have the full burden of the min. shipping/packing/handling costs,
so the more you order the more reasonable shipping becomes per item.
It is like going to the grocery store for one item, or buying many things while you are there: it is more economical to get many items on one trip.


Minimum of $35+ shipping/handling.
IF YOU ARE IN A HURRY AND HAVE A TIGHT DEADLINE, additional options are :
A. Send an email to them as a gift certificate with picture telling them their gift package will arrive in next week or two,
B. Buy it now anyhow, and save for the next holiday, birthday, or celebration
C. If for you: have the package shipped COD: this does add extra cost to your total
. . . . . . . . . . . . . . . . . . . . . . . . . . . . . . . . . .. . . . . . . . . . . . . . . . . . . . . . . . . . . . . . . . . . . . . . . . . . . . . . . . . . . .
~ ORDER FORM~
***Copy the following form with completed information into the form to email us at :
[email protected] DO NOT SEND IT AS AN ATTACHMENT, just paste it into the email
Minimum order of $35 + shipping/handling/fees per address
and please indicate in your message's subject line that it is a catalog order. Thank-you.
-.-.-.-.-.-.-.-.-.-.-.-.-.-.-.-.-.-.-.-.-.-.-.-.-.-.-.-.-.-.-.-.-.-.-.-.-.-.-.-.-.-.-.-.-.-.-.-.-.-.-.-.-.-.-.-.-.-.-.-.-.-.-.-.-.-.-.-.-..-.-.-.-.-
NAME:
Ship to address:
City, State, Zip:
Your phone ( ) cell ( )
Item numbers, item name, price
Date you need to have this?________________ or Send as soon as possible____.
After we mail invoice, you can then pay by Paypal (we will email you the address to pay with Paypal)
Thank-you for your order.
. . . . . . . . . . . . . . . . . . . . . . . . . . . . . . . . . . . . . .